I am so pleased to spread the good bamboo word about Smith & Fong Plyboo® a company which has been at the industry forefront & for whom I have much admiration & have supported for more than a decade.
Rose Bowl Renovation Goes Green with Plyboo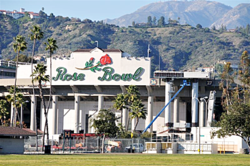 Smith and Fong Plyboo bamboo strand flooring is slated for install in $152 million renovation of iconic Rose Bowl Stadium.
Pasadena, CA (PRWEB) July 27, 2012
Smith and Fong Plyboo bamboo flooring has been selected as the product of choice in the $152 million historic Rose Bowl renovation project. PlybooPure Strand Bamboo flooring uses NAUF (no added urea formaldehyde) adhesives and 100% FSC Certified Bamboo, which will help the renovation project meet LEED certification qualifications.
17,550 sq.ft. of Havana and Sahara Strand Bamboo flooring will be installed in the Press Box and VIP suites. The project architect specified Plyboo Pure Strand as the basis of design because of its superior strength, manufacturing quality, and appearance. Plyboo Strand Bamboo flooring has a 3,500 psi hardness rating making it twice as durable as red oak as well as visually beautiful.

PlybooStrand 'Havana'                             PlybooStrand 'Sahara'
"All of our Strand Bamboo flooring products use 100% FSC Certified Bamboo, are FloorScore Certified, and pass the CA Section 01350 certification, the most stringent test available" says Plyboo Vice President of Sales, Angus Stocks, "I believe our commitment to creating superior products the cleanest way possible is a real advantage."
The project is being built by Clark Construction.
Smith & Fong Plyboo has become the most recognizable and respected name in bamboo flooring since the company's inception in 1989. Headquartered in San Francisco, Smith and Fong bamboo products were the first to attain FSC certification and the company continues to push the industry forward in sustainable forestry, product innovation and fair trade practices.